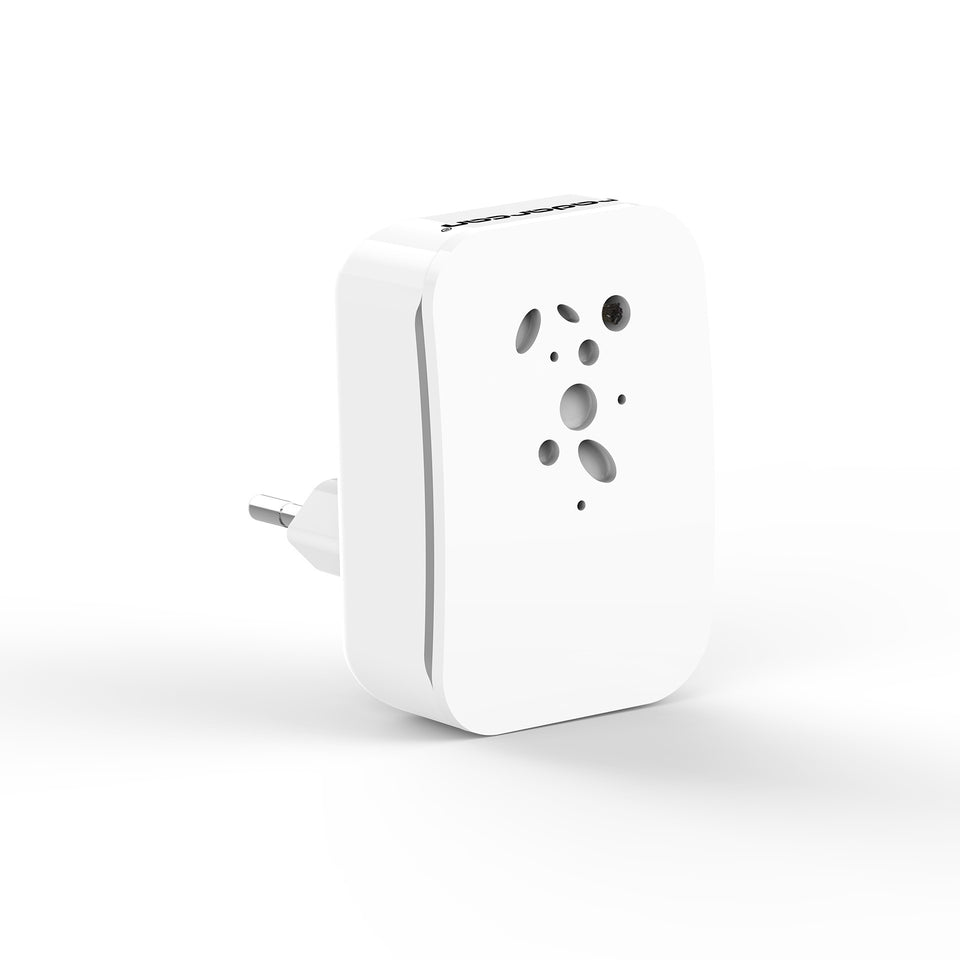 MITE REPELLER AND AIR PURIFIER R-502
R-502AMZN (EU)
Did you know that it is estimated that dust mites may be a factor in 60% of cases of asthma?. Mites depositions are what produce the famous "dust allergies", so the MITE REPELLER AND AIR PURIFIER works by altering the life of cycle of mites to reduce these allergic reactions. It offers an air treatment that eliminates bacteria from our home, providing environmental health.
All in a small-sized and compact design.
IDEAL FOR DUST ALLERGIC PEOPLE. GET AN IMMEDIATE REDUCTION OF THE SYMPTOMS.
KILLS BACTERIA, VIRUSES, ALLERGENS, AND REMOVES CIGARETTE SMOKE, PM2.5 LEVEL PARTICLES AND VOLATILE ORGANIC COMPOUNDS (VOCs).
OZONE-FREE AND HIGH IONS RELEASE: 20,000,000 ions/cm3.
ZERO CHEMICAL PRODUCTS. ODORLESS. 100% ELECTRONIC AND SAFE.
NO REFILLS. UNLIMITED DURATION. SAVES YOU MONEY!!!
SUITABLE FOR BABIES FROM 0+ YEARS OLD.
HIGH EFFECTIVENESS PROVEN IN LABORATORIES.
UP TO 5 YEARS WARRANTY.
DESIGNED AND MANUFACTURED IN SPAIN.
TECH. SPECIFICATIONS
LEARN MORE
FAQ
VIDEOS
INSTRUCTIONS FOR USE (PDF)
MODEL: R-502
TECHNOLOGY: INSonuerit 6.0 and ION.EVO 1.0
INDOOR/OUTDOOR USE: Indoor
MAXIMUM COVERAGE:  25 m2 / 269 sq. ft.
USAGE: 

Home

POWER SOURCE: 110 / 230 V AC
ENERGY CONSUMPTION: 0.40 / 2 W
ION RELEASE: 20,000,000 ions/cm3
REMOVES PARTICLES: 0.1 microns
OZONE RELEASE:

≤ 

0.00 ppm
DIMENSIONS: 190 x 131 x 95 (mm) 
HOW DOES IT WORK? -  INSONUERIT 6.0 AND ION.EVO 1.0 TECHNOLOGIES
INSONUERIT 6.0 TO FIGHT MITES

The allergy known as "dust allergy" is caused by the fresh deposition of mites and is the main cause of allergic asthma (inflammation of the bronchi) and allergic rhinitis (inflammation of the nasal mucosa). INSonuerit 6.0 provides a technical solution to "dust allergy" in two ways:
The interaction that exerts on the mites directly alters their biological cycle, what makes them diminish the ingestion of foods and therefore the emission of fecal particles.
Modifies the reproductive behavior of mites, reducing the laying of eggs.
ION.EVO 1.0 TO REINFORCE THE FIGHT AGAINST MITES

Humid environments, in which the existence of positively charged ions (cations) predominates, favor the appearance and development of mites generating "dust allergy". ION.EVO 1.0 releases negatively charged ions (anions), counteract the excess of positive charge and contribute to reduce the relative humidity of the environment. In this way, an unfavorable environment for the development of mites is generated and on the other hand it contributes to the dehydration of the feces, also decreasing the propensity to your allergy.
ION.EVO 1.0 TECH TO PURIFY THE AIR

Which is responsible for improving the air quality inside the home. The atmosphere inside the buildings, where we spend much of our time, is full of positive (harmful) ions (called cations) produced by pollution, smoke and all kinds of waste, being a source of problems such as asthma, fatigue, headaches and burden environment.
Its functioning is based on the issuance of a large amount of anions (negatively charged ions) to balance the positive (harmful) ions of the environment and thus it gives us confort and contributes to improve air quality, increasing the oxygenation of our lungs and decongesting the respiratory system.

It is certified to reduce colonies of bacteria such as Escherichia coli, Staphylococcus aureus and Pseudomonas aeruginosa. It avoids sources of infection and creates a cozy, comfortable, fresh, clean and pleasant environments.
The effectiveness of the
MITE
REPELLER AND
AIR
PURIFIER
 is tested at universities and independent laboratories against Dust Mite (
Dermatophagoides farinae
).
_____ 
HOW TO USE IT? LEAVE IT CONNECTED IMPROVING THE AIR QUALITY
RADARCAN MITE REPELLER AND AIR PURIFIER is designed for indoor use. For proper operation, you must connect it to an outlet, which preferably is in the head or in the rooms where the person with allergy problems are.
To ensure proper operation, it is important not to obstruct the front of the device and not focus it directly against a window or tissue to properly disperse the ultrasound throughout the entire room.
The best you can do is to leave it connected 24 hours a day, improving the air quality in your home.
_____ 
BENEFITS OF CHOOSING RADARCAN MITE REPELLER AND AIR PURIFIER
Unlike other products, RADARCAN MITE REPELLER AND AIR PURIFIER has been designed without any chemical or freshener. It ensures that you and your family breathe a clean and fresh air all the time you are at home. It is 100% safe and harmless and with a minimalist design, made in EU under strict quality standards, offering the best air treatment for your home.
WHAT IS ION.EVO 1.0 TECHNOLOGY AND HOW DOES THE MITE REPELLER AND AIR PURIFIER WORK?
Electrical storms ionize the atmosphere. After the storm, one feels relieved, while the air is fresh, pure and easier to breathe. It is able to generate the same natural effect inside your home as occurs in nature.
WHAT IS INSONUERIT 6.0 TECHNOLOGY AND HOW DOES THE MITE REPELLER AND AIR PURIFIER WORK?.
INSonuerit technology is based on ultrasound, with acoustic signals that humans can not perceive. These signals are emitted by the MITE REPELLER AND AIR PURIFIER to get rid of dust mites.
CAN ANY OF THE BOTH TECHNOLOGIES AFFECT: BABIES, PREGNANT WOMEN, CHILDREN, ADULTS OR PETS?
No. They are beneficial for everyone.
I HAVE HEARD THAT ULTRASOUNDS IS INEFFECTIVE AGAINST MITES. IS IT TRUE?
Please bear in mind that ultrasound is simply a term used to indicate that acoustic emissions of a frequency higher than 20KHz (human hearing limit) are being used. The use of this technology should be backed up by studies, tests and certification that attest to the efficiency of the technology and the chosen ultrasound frequency, as well as the strength and the emission pattern. Our products are, thus, tested and certified in highly-respected laboratories and universities. Again, NOT ALL MITE REPELLERS products that emit ultrasound waves are EFFECTIVE. Each infestation must be fought against with the specific appropriate technology.
DOES THE MITE REPELLER AND AIR PURIFIER ANY REGULAR MAINTENANCE?
No, It is only necessary to clean the product due to the eventual build up of particles that adhere to it.
WHAT IS THE LIFE SPAN?
The lifespan is unlimited.
DOES IT NEED REFILLS?
No, It needs no refills.
WHERE SHOULD I PLUG IN?
Place it in the area where you wish to improve the air quality and/or prevent dust allergy.
CAN I PLUG IN MORE THAN ONE MITE REPELLER AND AIR PURIFIER?.
Yes, the effect will be strengthened and it will reach a broader area.
CAN I PLUG IN OTHER RADARCAN PRODUCTS IN THE SAME AREA?
Yes, Our products are totally compatible.
WHAT IF THE LED INDICATOR LIGHT IS NOT WORKING?
Check to see if it comes on if you plug it into a different outlet. If you confirm that it still does not come on, get in contact with the RADARCAN support team.